The artist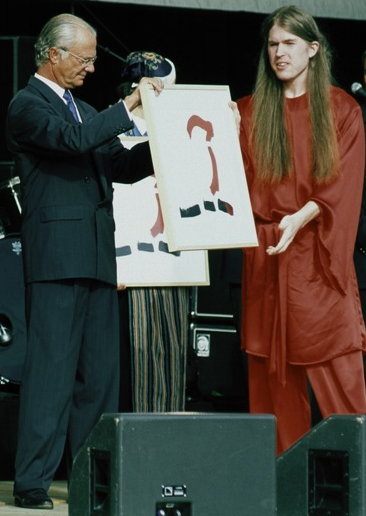 The Swedish King Carl XVI Gustaf and Blaziuz in Hemavan, Sweden, 2003.
Ingemar Selander, alias BLAZIUZ, grew up in a small town by the sea in northern Sweden. He always painted as a kid and was fascinated by animals and especially birds.
Ingemar educated himself first as an apprentice for the Swedish artist and painter Bengt Jahnsson-Wennberg, and later at the art school Gerlesborgsskolan in Stockholm, the capital city of Sweden, where he graduated in 1998.
The artist started to work full time with his art in 2002, and in the same year he registered his own firm in the art business. Ingemars focus while selling his art was on art clubs at companies throughout Sweden, Denmark and Norway. He travelled extensively between 2002-2008, showing and selling his works to art clubs and private collectors.
In 2008 Ingemar met his wife Monica Selander, a jazz singer from Sweden, and in august 4th 2009 their first child, a son, was born. The coming years, Ingemars family grew, and today it consists of 5 children and 2 adults.
Between 2008-2022 Ingemar has continued to travel the Nordic countries as well as the USA, selling his works to municipalities, county councils, companies, art clubs and private collectors. The artist has also, over the years, exhibited his works at galleries and museums in Sweden, for example at Liljevalchs konsthall in Stockholm in 2002. Ingemars main goal however, has always been to work through his own firm, selling his works on his own directly to his customers.
Ingemar has, on assignment, painted a portrait of the Swedish financial guru Anders Wall. Two of Ingemars oil paintings was purchased by Deere & Co. in 2013, and they are placed at the companys international head office in Moline, Illinois, USA. In 2003 one of Ingemars prints "Small bird" was inaugurated by the Swedish King Carl XVI Gustaf in Hemavan, Sweden. The print "Small bird" was created as a commemorative work for the company Hemavans Högfjällshotells 50th birthday.
Today Ingemar is working mainly with painting in oil and watercolor, and with sculpture. He is continuously developing his bird theme, while also touching other varied themes. Ingemar is also working with scenography and posters for the Swedish puppet theatre Dockteater Månstjärnan.